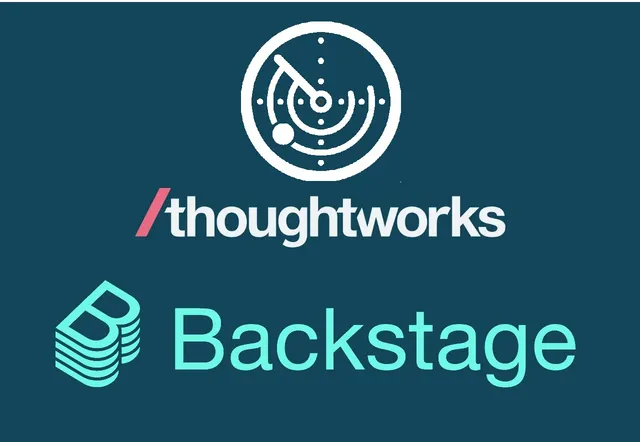 Thoughtworks is a publicly owned, global technology company with 49 offices in 18 countries and around 10.000 employees. It provides software tools and consulting services. The Thoughtworks Technology Radar is a document that sets out the changes that the company thinks are currently interesting in software development. It reflects the opinion of their senior technologists and is based on day-to-day work and experiences. Thoughtworks publishes its Technology Radar every six months or so. They have done so for the last 13 years.
ThoughtWorks' 27th edition of the Technology Radar is themed: "The power of platforms as a product".
In this edition of the Technology, Radar Thoughtworks moved the OSS Developer Portal Backstage that we know and love at ZEN Software to the status 'Adopt'!
The Radar has four stages for new technology, starting at 'Hold' for technology that does not quite make it, moving to 'Assess', 'Trail' to give the tech a serious chance and finally, 'Adopt' to start transforming the teams or organisation and adopt the technology, language or method.
Backstage was first Assessed in October 2020, Trailed throughout 2021 and has now reached the mature 'Adopt' stage of Technology in October 2022.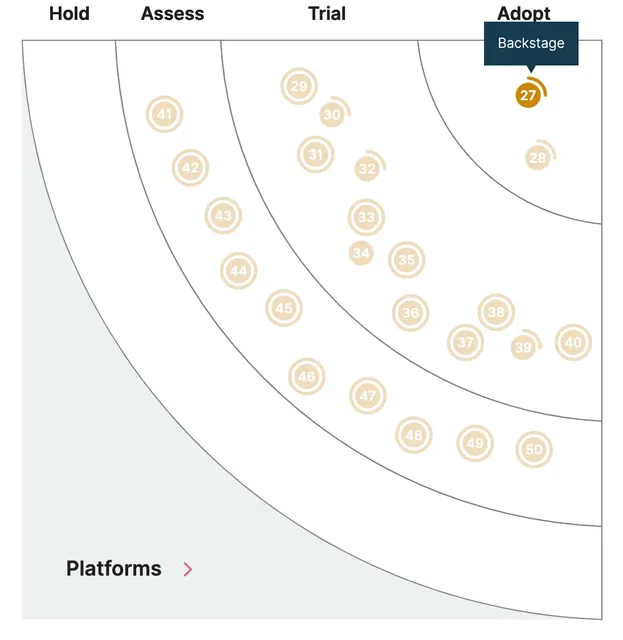 In Thoughtworks' own words about the change in status of Backstage:
In an increasingly digital world, improving developer effectiveness in large organizations is often a core concern of senior leaders. We've seen enough value with developer portals in general and Backstage in particular that we're happy to recommend it in Adopt. Backstage is an open-source developer portal platform created by Spotify that improves the discovery of software assets across the organization. It uses Markdown TechDocs that live alongside the code for each service, which nicely balances the need of centralized discovery with the need for distributed ownership of assets. Backstage supports software templates to accelerate new development and a plugin architecture that allows for extensibility and adaptability into an organization's infrastructure ecosystem. Backstage Service Catalog tracks ownership and metadata for all the software in an organization's ecosystem; it even lets you track third-party SaaS software, which usually requires tracking ownership.
The full report Thoughtworks Technology Radar edition 27, can be downloaded here. If you have a backstage.io environment or are considering setting up a backstage portal, ZEN Software is the right place to start! We are experts in setting up a secure Development Portal environment and guiding your organisations in Developer Portal projects. You don't want to miss ZEN Software's Agile Analytics product and the integration with backstage.io. Leverage DORA DevOps Metrics, SRE Error Budgets and ML insights into your sprints! Agile Analytics integrates very well with Backstage.
Let's
talk!
We're confident we can supercharge your software operation. Our unique products and services will delight you.